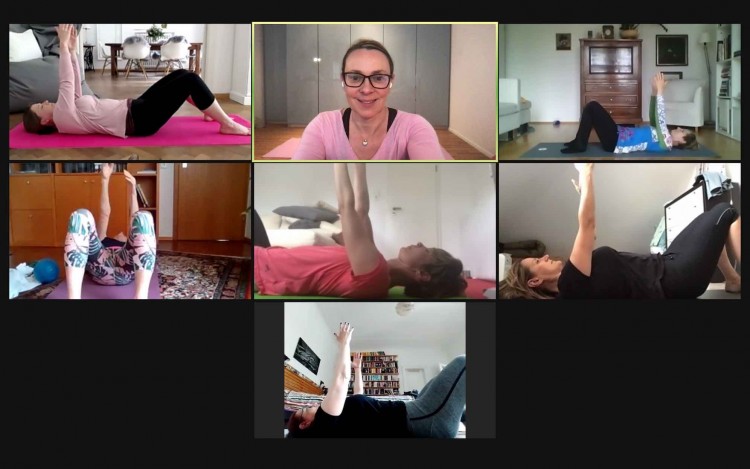 2021 May 15
Fitness,Yoga, Recovery courses - online versus offline
- an opinion piece from a teacher nearly 20 years experience -
The pandemic changed a lot - especially in the Fitness Industry.
I am teaching courses (Yoga, Pilates, Postpartum Recovery, Fitness) and am a personal trainer for almost 20 years, so I am directly affected.
Of course I have done my best to serve my clients -as in making courses and classes available online & offline one-on-one.
And there are so many different ways of approach from my and my colleagues clients.
Some of them switched to personal training, some of them attend online courses, some of them stopped altogether and some of them train with youtube or other (free) online videos.
I can see the benefits in every of these approaches (well not in stopping altogether :-))
In general I just wanted to write about my own observations here - so bear with me.
ONLINE TRAINING
Youtube and other free channels
For one - the youtube and other channels are free - so why pay?
Yes they are free and this is great for the ones amongst us, who do not have a penny to spare and want to train themselves.
Plus, there are many great trainers around with great videos - you just need the self-motivation.
Just one thing to keep in mind - if your body awareness is great and you have been training for many years and definitely know your body, then this is very beneficial alternative. If not, you need to be careful though, as you might not train the right way, which might result in injuries and/or pain. With a good trainer - even if online - you will get direct feedback & assist on what you are doing.
Even I myself love to attend lessons with a trainer, as in the course of things even I am getting a little lazy or unobservant and want to be assisted in my own training.
Online session / course with a trainer
More than once, clients were asking me, why the courses cost what they cost, as there are so many free ones around.
Actually, teaching online is quite exhausting (at least for me) and it takes up a lot more of my energy, as I am not only physically doing the whole class (as opposed to walk around and assist my clients), but at the same time I do assist on screen by watching them and giving verbal guidance. Plus, I need to check the lighting, the set-up, how I can show the correct postures & exercises on screen and be very flexible if I notice that one exercise cannot be taught online as it it too complex to explain.
Hence, my classes are much smaller online, as I really want to assist and keep my clients safe, want to feel them included and therefore I also try to help them socialise online and have some fun, too.
Summing up - benefits & disadvantages of Online Training:
The benefits for the clients are that they are taught in a very small group (at least with me), they are assisted and can hence better train by themselves with videos later, they are motivated and have a fixed date (so no excuses :-) and they can do it from their own home, which saves the hassle of time of going somewhere - especially if you are attending a class with your baby.
Plus I am also taking my time to check in with each and everyone and there is a little time to chat and rant :-).
So, yes online training can be social and fun, too.
Online training without a trainer can be great, if you know what you are doing.
Maybe here it is a good idea to check in with a trainer one-on-one once in a while to get some professional feedback on how you carry out the exercises. Also training online by yourself can be a little lonely and you therefore need a lot of self-motivation.
All in all of course the social aspect is missing out doing everything online and we are also in general very tired of all the 'online stuff'.
I, myself think, that online is a great way to train if you do this right and with a trainer and it can be social, too.
It can be very beneficial if the clients live far apart from each other (like often in our case) and it is a hassle for them to go somewhere.
So instead of not doing something, we can do it online.
Offline Training
The direct interaction is great and if it is a closed course you can make new friends and get to know each other.
There is always direct feedback from the trainer and of course hands-on assist (if you like).
Plus I get to really see and interact with my clients, which I love.

The disadvantages of a group courses are that you need to go the place the course takes place and this might not be convenient for you and your personal situation. Depending on the trainer or studio it might be an open class or a class with a lot of participants - hence there is not so much personal assistance.
One-on-one courses are always great, as the focus is totally on you (online and offline) - plus it can be at your place or a place of your choice. There the price can be a clear disadvantage.
Summary
Whatever you choose - whatever is right for you - make sure that you are safe and that you enjoy your training.
Also look for a trainer you really click with - especially if friends join my courses, I always tell them to be upfront - if they do not like the way I teach - this is totally fine - this is not the right place for having an ego (as a trainer) :-)
Only this guarantees that you will keep doing your course as a participant.
And please do not forget to build your tribe for support and well-being.
We know this is even more a challenge in Corona times than it is normally.
Show your self-respect , self-love and self-care by reaching out if you need something / anything.
May 2021 Kira Neumann
This blog post has been prepared with the greatest possible care and does not claim to be correct, complete or up-to-date."

Tell someone of us today - thank you!
https://www.instagram.com/gravidamiga/
https://www.facebook.com/gravidamiga
and sign up for our weekly Gravidamiga Newsletter.
or check out our partner Page for more general information about life in Stuttgart with an extensive blog:
Kiramiga - beyond relocation.
We love what we do and hope you love it, too.
Please support us and our work by donating us a coffee or a prosecco :-)
Thank you.
---
---