Post-Birth
everything you and your baby might need after birth
Individual & Medical Post-Birth Services
Medical Topics - Private Consultation in person or via the phone/videocall
Our M.D. or a specialist of our team (midwife,pediatric nurse, Doula) will answer all your question and will talk with you about whatever concerns you during your pregnancy and after giving birth. From medical questions up to breastfeeding, after birth care for yourself and baby care.
first consultation: 20 minutes = 30 Euro, thereafter that 1 Euro per minute
follow up calls 15 Euro per 15 minute interval
Home Visits possible with additional travel fees.
Contact us and we will put you in touch.
Post-Natal Excercise (in person or online)
Personal Training
Book a session with our experts Kira & Dori or one of our partners.
Designed exactly for your needs - to make you feel good and get you back in shape after giving birth.
Holistic Core Restore
The Holistic Core Restore® programs are designed for women who are ready to take over not only their pelvic and core health, but also their overall well-being.
Special programmes for the 4th Trimester, after a C-section & Diastasis problems.
Dori is the expert in our tea.
Post-Natal check-up
This includes a debrief of your birth and pregnancy, pelvic helath screening from review, review of your pelvic floor and core muscle activation, practical advise on post-natal nutrition and advice on the best approach to return to exercise.
Here is a video from Coach Dori for more information: https://youtu.be/6KoHp8jvF9M

Mom & Baby Yoga
Join a class with our expert Kira or one of our partners.
This course focuses on yoga poses to increase strength and flexibility and to help you relax. Of course your baby is part of the exercises so you can enjoy some special time with your baby.

Mama-Workouts
A workout to get back in shape after your pregnancy.
More details about our partners & upcoming courses in our calendar.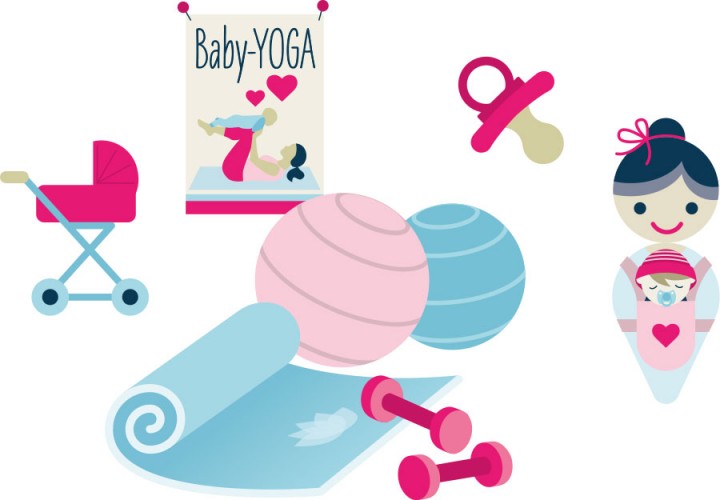 Post -Natal Wellness
Does your body need some support after giving birth or do you just need a time-out?
Dori is the expert in our team, plus we cooperate with some other therapists (massage, osteopathy, physiotherapy, acupuncture, taping) who can help.
Support for your soul
Feeling lost and confused after having had your baby? The world is not as bright as everybody around you expects it to be? Do you have bonding issues? Did you have a traumatic birth? Are your feeling depressed?
You are not alone - this is not as uncommon as you might think.
Our partner Flavie offers psychological counselling, coaching and support for your soul also via video conference (Zoom, Skype), telephone and e-mail. You can contact her with any question you may have around the changes, transitions and challenges of pregnancy, giving birth (especially traumatic birth experiences, pre-natal anxiety and post-natal depression) and family life.
first consultation: 20 minutes = 30 Euro, thereafter that 1 Euro per minute
follow up consultation sessions: 1,50 Euro per minute (90 Euro per hour)
Information Sessions - Classes

We have short information sessions focusing on different topics around your baby.
Possible topics: sleeping patterns, crying babies, baby carriers, food, children illnesses
Our calendar offers more detailed explanations and course dates.