Physics Fitness & Wellness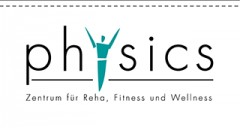 Fitness- and Wellnesscenter of the Schwabengalerie in the middle of Stuttgart Vaihingen.
Child care available.

Lets get physical . Begin your new lifestyle at Physics!
We offer you the ideal combination of various exercises, regardless if you are in need of cardio, or spinal column training, muscle building, tissue strengthening or loosing body fat, we have you covered.

After having an initial talk with our trainers, we will tailor for you, your own individual exercise program and save it to your TGS – A Technogym-key, similar to a chip card, to easily use our electronic exercise equipment. This way every piece of equipment is adjusted to your personal optimal settings.

Your training results are not only saved to the exercise equipment, but also to the cardio equipment. You can check your personal exercise plan at all checkpoints, after you completed your routine and track your goals. This way you can have an eye on your results.

Our cardio center is equipped generously, with lots of options, so everyone can find something to fit their needs. You will be able to take advantage of the newest generation of or cardio vascular equipment, among them cross-trainers, bikes, waves, running machines and much more.

For the people among you that enjoy hanging out with friends at the gym, we offer a wide selection of work out classes, that are held in our air conditioned class room.

For more information regarding our classes, feel free to call, or download the course program with its details as PDF, from our homepage.

How would you like some training or taking advantage of our Finnish saunas (one large mixed gender sauna and a separate lady's sauna) or steam baths after an exhausting day at work? Just relax and sweat and detox. After the sauna you can relax with a cup of tea on one of the comfortable loungers in the resting area our outside on our patio.

The children team will be happy to look over your little ones. Parents can concentrate on their training, while still have plenty of time to chill with a refreshment later on.
During our physical therapy we offer plenty of possibility to care even more, for your well-being and to prevent or better current ailments. Offering everything from the classical physical therapy to CMD – therapy and prevention courses. We offer rehabilitation classes where we don't focus only on the symptoms but cure the causes. For that we work closely with doctors, health insurances and other health care professionals. Our therapy offers are open to everyone, privately insured, statutory health insured or pay out of pocked customers.
Physics


Hauptstr. 22
70563 Stuttgart Vaihingen
0711 - 78238484
06:30
- 22:30