2023 March 26
Our April Programm 2023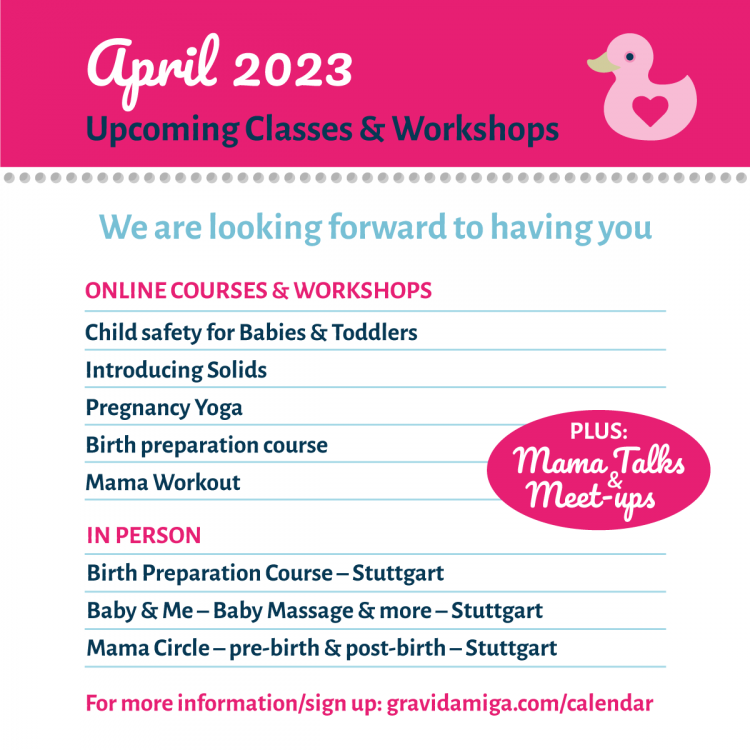 NEW - ADDITIONAL IN PERSON COURSES
We have our own little place now, so finally we can offer you in person courses in addition to our really well working online ones. You can come by in Stuttgart Sillenbuch and book yourself in any of what we offer in April
We have a in person PRE-Birth and POST-Birth Circle and also a Baby Massage Course.
Is your little one around 4-6 months old? Or has already tasted some solid food, but you are unsure how to start? We can give you clarity to find your own way with our Introducing Solids Workshop Online.
You think Child Safety is only about how to secure your home- NO -there is so much more and we will teach you about the development of your precious one and how to keep him/her safe. It starts a long time before first aid.
Tell someone of us today - thank you!
https://www.instagram.com/gravidamiga/
https://www.facebook.com/gravidamiga
or more general information about life in Stuttgart on our partner page
Kiramiga and sign up for our join NEWSLETTER.
We love what we do and hope you love it, too.
Please support us and our work by donating us a coffee or a prosecco :-)
Thank you.
---
---