2023 April 27
May Program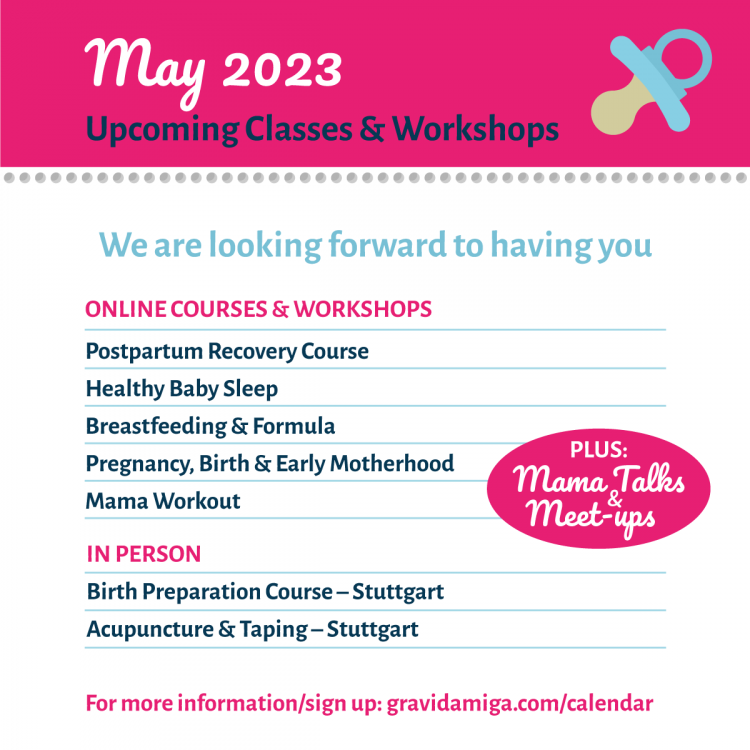 Join us in May!
Can you believe it is already May?
We will start off with a Postpartum Recovery Course for Moms to recover from birth, followed by a Healthy Baby Sleep Workshop, where you will learn about the biology of sleep and why babies are no independent sleepers...

If you are newly pregnant you can attend our Workshop Pregnancy, Birth and Motherhood in Germany to get all the basics and if you are pregnant and ready to give birth we really recommend to attend a Breastfeeding and Formula Workshop - often starting to breastfeed is not as easy as we believe (unfortunately) and we want to teach you all the tricks and tips.
AND we have a meet-up on the 2nd of May in Stuttgart Sillenbuch.
Plus, you can visit us in our home base for acupuncture & taping during and before pregnancy for all sorts of troubles :-) or if you want a second opinion from Dr. Christine.
Tell someone of us today - thank you!
https://www.instagram.com/gravidamiga/
https://www.facebook.com/gravidamiga
or more general information about life in Stuttgart on our partner page
Kiramiga and sign up for our join NEWSLETTER.
We love what we do and hope you love it, too.
Please support us and our work by donating us a coffee or a prosecco :-)
Thank you.
---
---